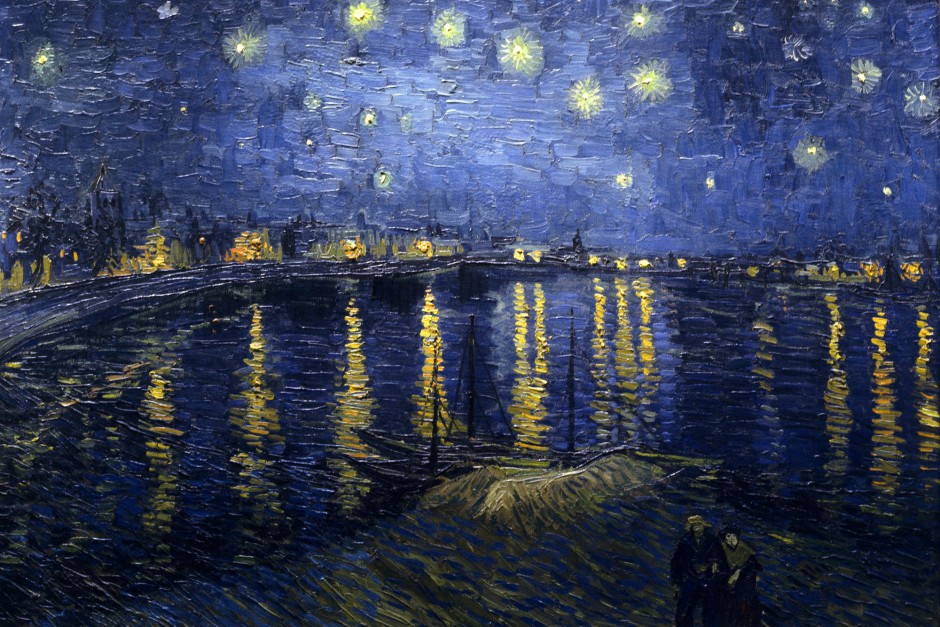 Starry Night Over the Rhone
Canvas on a stretcher , photopolymer inks. From collection of museum d'Orsay in Paris.

Relief replica of one of Vincent van Gogh's paintings of Arles at night time. It was painted at a spot on the bank of the Rhone River that was only a one or two-minute walk from the Yellow House on the Place Lamartine which Van Gogh was renting at the time. The night sky and the effects of light at night provided the subject for some of his more famous paintings.
Van Gogh announced and described this composition in a letter to his brother: In short the starry sky painted by night, actually under a gas jet. The sky is aquamarine, the water is royal blue, the ground is mauve. The town is blue and purple. The gas is yellow and the reflections are russet gold descending down to green-bronze. On the aquamarine field of the sky the Great Bear is a sparkling green and pink, whose discreet paleness contrasts with the brutal gold of the gas. Two colorful figurines of lovers in the foreground